UPDATE ON THE DONATION RECEIVED FOR BUKU AND HER FAMILY
As of today, we are delighted to announce that the team has received Nu.177,103.69/- for the construction of a more accessible home for Buku and her family. Ability Bhutan Society would like to extend our deepest gratitude to all the donors on behalf of Buku, the Youth Initiative for PWDs and the Sherubtse Social Service Unit -SSU for supporting this social cause. Indeed, seeing more people pledge to support and making a difference in the life of three people is encouraging.
For the first phase, we are targeting Nu.300,000/- and if it turns out well, the team expects to target another Nu.600,000/-; a total of Nu.900,000/- for the construction of the house. Please continue to donate, as we will help bring about change with your donations.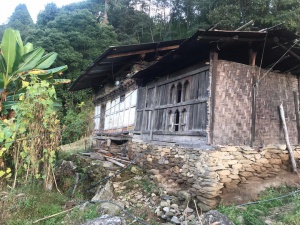 With proper accessibility, the daughter of Buku can move easily on her wheelchair to assist her mother, her son can walk outside comfortably using a walking stick, and a 63-year-old mother can feel safer to manage a lot of work.
Interested individuals who wish to donate can deposit to Account Number-5100130973002 (Bhutan National Bank). The account is opened under a joint account (Asst. CBID coordinator, Trashigang ABS and FINA President, Youth Initiative for PWDs).
For further enquiry please contact CBID coordinator, Trashigang, ABS at 17349594 or follow the face book page: Youth Initiative for PWDs.
Kindly drop your name, citizenship identity number and the screenshot of the amount in Youth Initiative for PWDs inbox. Your help and support will highly be appreciated.