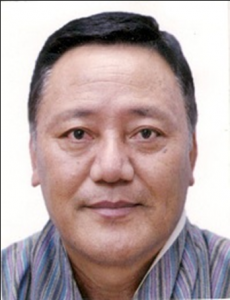 Dasho Karma Tshering
Chairperson
Director General
Ministry of Education
Qualifications
Masters in Business Administration (MBA), Cardiff Business School, UK (1989 – 1990)
Post Graduate Diploma in Business Administration, Cardiff Business School, UK (1988 – 1989)
Bachelor Degree in Commerce from Sherubtse College, University of Delhi, India (1882 -1986)
Work experiences
Director General, Royal Institute of Management
Director, Department of Employment, Ministry of Labour and Human Resources (2004-2008)
Deputy Director, National Employment Board (2001 – 2004)
Senior Lecturer, Royal Institute of Management (1996 – 2001)
Lecturer, Royal Institute of Management (1992 – 1996)
Assistant Planning Officer, Royal Institute of Management (1987 – 1991)
Award
Royal Civil Service Silver Medal Award for his 20 or more years of dedicated service to the Tsa-Wa-Sum.
National Silver Medal Award for his contribution in the organization of the coronation of His Majesty Jigme Khesar Namgyel Wangchuck, King of Bhutan.
Global B-School Leadership Award from World Education Congress, Mumbai 2013
Membership
Governing Board Member, SAARC Documentation Centre (SDC), India
Executive Board Member, Association of Management Development in South Asia (AMDISA) – permanent invitee
President, AMDISA (2009 – 2010)
Vice President, AMDISA (2008 – 2009)
Commissioner, National Commission for Women and Children (NCWC), Bhutan (2004-2006)
Board Member, Business Opportunity Information Centre (BOIC, Bhutan (2003 – 2004)
Area of Expertise
Leadership, Marketing, Small Business Management and Organizational Behaviour
Publication
Small Business Marketing in Developing Countries (1991)
Private Sector Human Resource Development Plan (2004)
Labour Force Survey Report (2003 – 2006)
Employment Counseling guidelines (2004)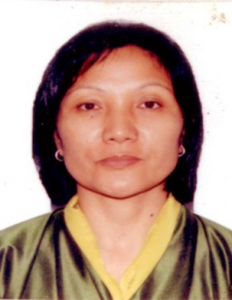 Dr. Karma Lhazeen
Vice Chairperson
Director
Department of Public Health, Ministry of Health
M.B.B.S.  1993     Nalanda Medical College, Patna, India
M.C.T.M. 2003     Faculty of Tropical Medicine, Mahidol University, Bangkok
International experience (March 2006- March 2008)
Post Doctoral Fellowship in Tropical Disease Research Small grant programme management 20 March 2006 to 19 March 2008, South East Asia Regional Office of WHO, Delhi, India
Employment history (Posts held):
General Duty Medical Officer
I started my carrier as General Duty Medical Officer at then General hospital Thimphu with effect from 15 July 1993. In February 1994, I was transferred to General hospital Gelephu and worked till November 1995.
District Medical Officer
From November 1995 till June 2002 worked in Sarpang hospital and Damphu hospital as District Medical Officer.
General Duty Medical Officer and Technical Advisor to Vector Borne Disease Control Program National Programme from April 2003  till October 2003.
Program manager of Vector Borne Disease Control Program National Programme   from October 2003 was appointed as National Programme Manager for Vector-borne Disease Control Programme, Department of Public Health Ministry where I worked till March 2010.
Medical Superintendent
From March 2010 appointed Medical Superintendent of Central Regional Referral Hospital, Gelephu till January 2011.
Chief Program Officer
In January 2011 got transferred to Essential Medicine & Technology Division (EMTD), Department of Medical Services, Ministry of Health, Thimphu as Chief Program Officer.
From January 2013 I was appointed Chief Program Officer of the Communicable Disease Division, Department of Public Health and was over all supervisors of HIV/AIDS/ STI, Vector-borne Disease Control, Tuberculosis, Leprosy, ARI/IMNCI/AI, Zoonotic Disease and Vaccine Preventable Diseases Programmes. In April 2013, we were also appointed as IHR NFP (National Focal Point).
Director
1st October 2016 appointed as Director, Department of Public Health with 5 Divisions:
Communicable Disease Division
Non-Communicable Disease Division
Health Promotion Division
Public Health Engineering Division and
Royal Centre for disease control
(C) Publications:
Malaria Perceptions and practices in Bhutan Southeast Asian J, Trop Med Public health, 2010 Mar;41(2);274-9
Monitoring medicines use to support national medicines policy development and implementation WHO South-East Asia Journal of Public Health, Year 2013, Volume 2, Issue 2 [p. 113-117]
Bhutan close to eliminating malaria http://www.searo.who.int/LinkFiles/CDS_News_letter_vol-5_issue-1.pdf for CDS News Letter of March 2008 Volume 5 Issue 1
Twenty-two years of HIV infection in Bhutan: epidemiological profile. https://www.ncbi.nlm.nih.gov/pmc/articles/PMC5337414 Journal of Virus Eradication 2016; 2 (Supplement 4): 45–48
Taking Action on Prevention and Control of Non communicable diseases in Bhutan by strengthening Gross National Happiness http://www.bhj.com.bt/index.php/bhj/article/view/79.
Bhutan Health Journal . 2018 November | Vol. 4 | Issue 2
(D) Special Tasks performed
Founding Member for APMEN from Bhutan in 2008.
National Focal Point for International Health Regulations (IHR 2005) from 2013 till 2016.
Founding Member of Bhutan for the Regional One Health Network since 2018.
Human resource Assessment of JDWNRH November 2012.
Member of the Task Force for Strategic Assessment of 10,000MW Hydropower projects October 2012.
Members of the National Film Review committee of Bhutan w.e.f. 2013.
Nation Focal Point for Bhutan and International Health Regulation (2005) with effect from April 2013 to October 2016.
Member of CCM Bhutan for GFATM with effect from 2016.
Board Member of Jigme Dorji Wangchuck National Referral Hospital since 2016.
Member of the General Council Body (GCB) of Bhutan Medical Health Council from 2016. Board Member of the National Center for Hydrology and Metrology (NCHM) since 2016.
Board Member, Management Board Bhutan Agriculture and Food Regulatory Authority (MB-BAFRA) 2017.
Member of the Climate Change Coordination Committee from 2017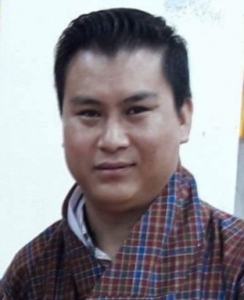 Mr. Chencho
Treasurer
Chief Finance Officer
STCBL
EDUCATION AND QUALIFICATIONS:
Qualifications: Certified Practicing Accountant (CPA)
Institute:  CPA, Australia
2. Qualifications: Master of Professional Accounting
Institute:  Edith Cowan University, Australia
Qualifications: Master of Business Administration (International Business)
Institute: University of the Thai Chamber of Commerce, Thailand
Qualifications: Bachelor of Commerce (Honours)
Institution:  Sherubtse College, University of Delhi, India
EMPLOYMENT HISTORY:
Head, Finance and Accounts, T Bank Ltd., Bhutan (July 2017 – current)
Accounts Officer, National Pension and Provident Fund, Bhutan (2005-2013)
Company Secretary, National Pension and Provident Fund, Bhutan (2011-2013)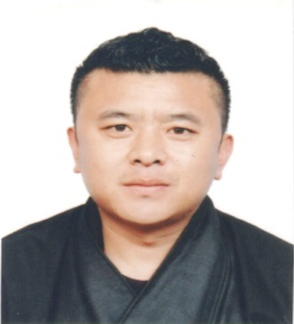 Mr. Chencho Dorji
Board Member
Proprietor, Leo Entertainment
---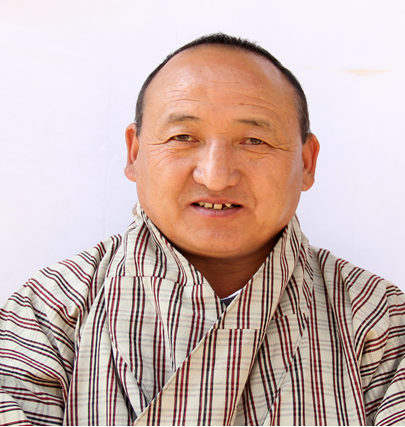 Mr. Nyendo
Board Member
Principal, Changangkha Middle Secondary School, Thimphu
Education
Master Degree in Educational Leadership and Management. (RUB, Paro College of Education- 5TH February 2010)
Bachelor of Education( RUB, National Institute of Education, Samtse – 22nd December 2004)
Advanced Diploma in Educational Studies. (University of Leeds, England- July 1992)
Professional Profile
Trainer for Instructional Leadership ( Assessment)
Trainer for teaching and learning strategies. (Assessment)
Trainer for universal Prevention Curriculum for substance use.
Teaching experience for nine years.
Experience as school principal for twenty two years.
Experienced in leading school from community primary school with 180 students to Middle Secondary School with 2000 students with inclusive settings.
Research Project on the management, policies and other administrative procedures on BCSEA.
Experience in mode of assessment for Special Educational Need Children.
| | | |
| --- | --- | --- |
| Professional Experiences | From  – To | Place of Assignment |
| Teacher | 1987 – 1989 | Samtengang Pry School, Wangdue. |
| Teacher | 1990 – 1991 | Lobesa Pry School, Punakha |
| Teacher | 1992- 1993 | Jigme Namgyal Pry School, Thimphu |
| Teacher | 1993- 1995 | Zilukha Pry School, Thimphu |
| Principal | 1996- 1998 | Chamgang Community Pry School, Thimphu |
| Principal | 1999 – 2001 | Chang Bangdu Pry School, Thimphu |
| Principal | 2002-  2013 | Dechencholing MSS, Thimphu |
| Principal | Feb 2014- till date | Changangkha MSS, Thimphu |
---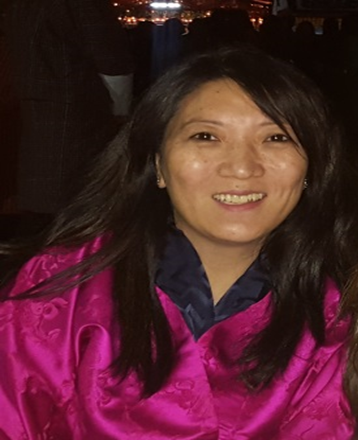 Aum Deki Yangzom
Board Member
Managing Director, Lathing Enterprise
Aum Deki Yangzom is the sole proprietor of Lhathing Enterprise, Thimphu. She completed her High School from Mount Hermon School in Darjeeling after which she has done several courses in Business Management in Queens, New York. Aum Deki has been running her own company for last sixteen years. She has been very active supporter of ABS since its incorporation and has been actively involved in fundraising activities and programs of ABS. She has been board member since January 2016.
---
Ms. Saldon L. Norbu
Board Member
Queen's Project Office, His Majesty's Secretariat
Ms. Saldon L. Norbu works in the Queen's Project Office, His Majesty's Secretariat. She received a Bachelors Degree in Philosophy, Politics and Economics from Rangsit University, Thailand and completed High School from Kodaikanal International School in India. She joined His Majesty's Secretariat in 2009 and has volunteered with ABS since 2012. She has been a board member of ABS since 2016.
---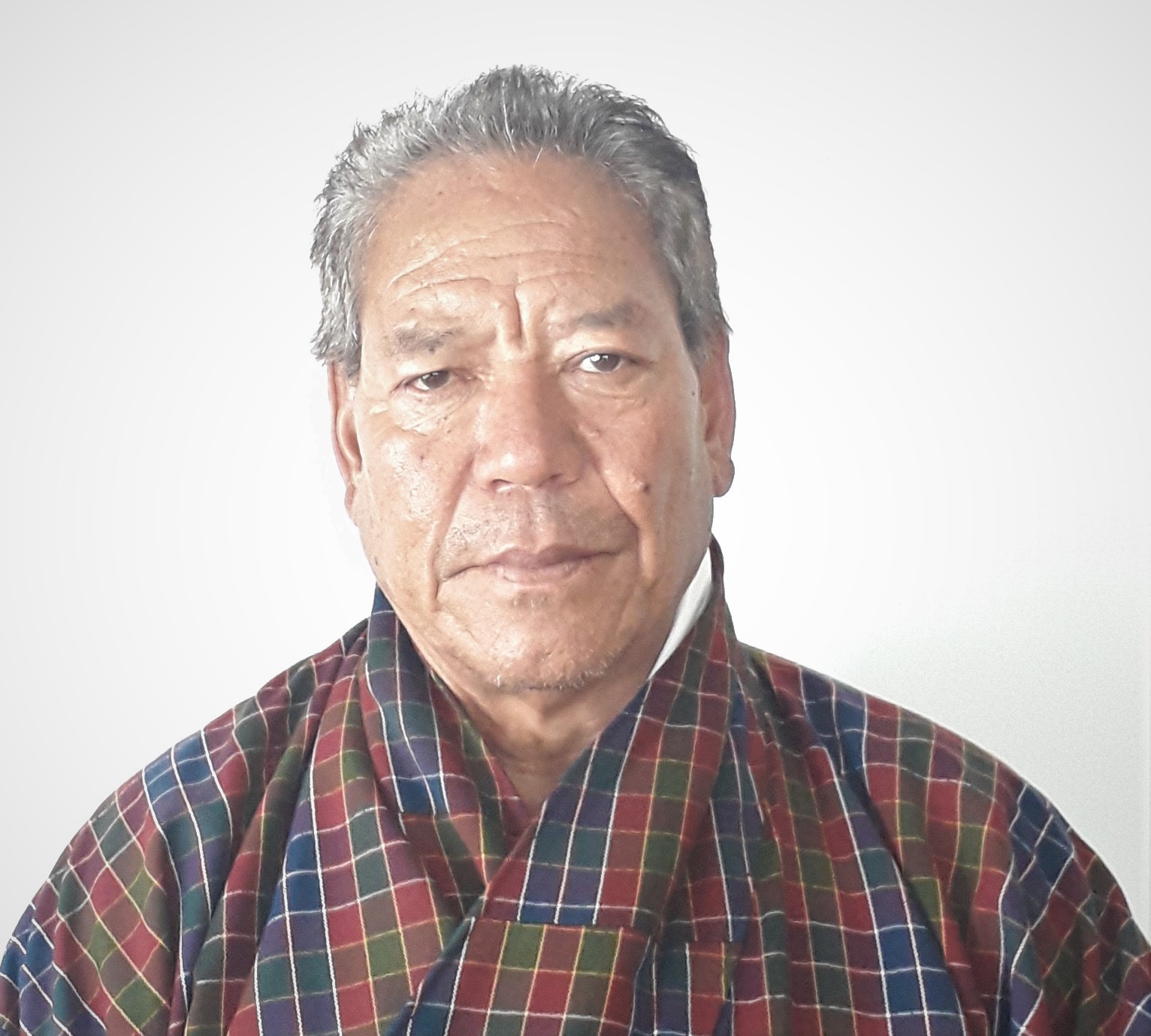 Mr. Chado Rinchen
Board Member
Parent Representative
Mr. Chado, a parent is elected among the parents of ABS as a parent representative to Board who will shoulder both the responsibility of bridging parent's concerns as well as member of the board.
Qualification
ICSE with 2 years Surveying course from Hyderabad, India
Experiences:
Retired as Dy. Chief Survey  Engineer/ Head of the Adm. and Support Services during 2016 from the Deptt. Of Geology and Mines under the Ministry of Economic Affairs after 38 years of services.
Participated as Returning officer during the 1st and 2nd Parliamentry Election in the year 2008 and 2013.
Served as the Chairman of the School Management Board in Rinchen Kuenphen Pry. School for 10 years
Served as Chairman of the School Management Board for 5 years in Motithang Higher Secondary School