BRIEF HISTORY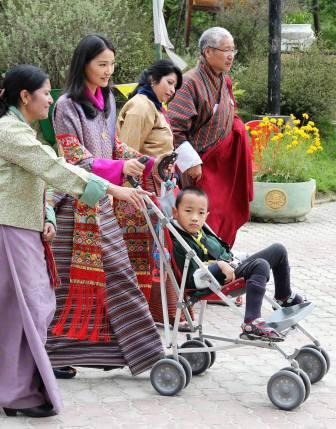 Ability Bhutan Society (ABS) is a public benefit organization founded on the recognition that persons with moderate to severe diverse abilities, primarily children and their families have special needs. It was registered with the Civil Society Organization Authority of Bhutan (CSOA) under registration no: CSOA/PBO-15 on tenth of November 2011.
The concept of ABS was inspired by the vision of His Majesty Jigme Khesar Namgyel Wangchuck, The King of Bhutan, of a compassionate and just society. It was inaugurated by Her Majesty Gyaltsuen Jetsun Pema Wangchuck, The Royal Patron of ABS, on sixth of April 2012 as a project under the Kidu Foundation established by their Majesties as an endowment for Royal Projects.
Beginning in 2007, families of children with disabilities gathered formally to share their problems of loneliness and helplessness and to explore ways and means to provide better life for their children with moderate to severe disabilities, who often have to be left at home alone or at best with an untrained caregiver. This was a very critical situation for the individuals and their families.
It was during that time that the concept of ABS was initially conceived with the objective of helping each other to provide direct early intervention and assistance to their children with disabilities.
The greatest strength of ABS is The Royal Patronage of Her Majesty the Gyaltsuen who takes a deep and active interest in ABS and its activities. Her Majesty is indeed a source of inspiration and aspirations for present and future when in the quality of life of individuals with moderate to severely disabilities would be improved and suffering alleviated.
VISION
Empowering individuals with disabilities to live independently and with dignity within Bhutanese society.
MISSION
Enhancing the quality of life of individuals with moderate to severe disabilities by:
 Advocating and creating awareness of the rights of people living with diverse abilities in Bhutanese Society;
Developing core groups of dedicated, committed and trained Social Workers and care givers;
Enhancing families and care givers skills to empower those living with diverse abilities in their care; and
Providing direct interventions to enhance the capabilities of people with differing abilities.
OBJECTIVES
The organizational objectives of the ABS are to:
Create a purpose-built National Facility with Regional level Care Centers staffed with highly qualified care providers;
Advocate inclusion of persons living with diverse abilities in the Bhutanese Society;
Ensure accessibility to public facilities and services to widen the opportunities for participation of persons living with moderate to severe diverse abilities in society to their fullest potential;
Develop the professional skills of ABS' social workers through training, exchange programmes and educational developments;
Support families, care givers and families of persons living with moderate to severe diverse abilities through educational and psycho-social support;
Create network with sister organizations for cooperation and sharing of experiences; and
Ensure that ABS has sustainable funding and appropriate organizational skills at all levels.