World Cerebral Palsy Day
ABS focused upon creating a fun yet informative day for the children, parents and caregivers. The event started with registration of the parents/caretakers by our staff which began at 9:00 am and went on until 9:30 am. Once everyone had registered, the emcee, Mr. Chogyal, welcomed all the attendees and invited Zenden Dorjee, volunteer, to give a speech. The speech was focused upon the significance of the day and the benefits of therapy. Following the speech, information on cerebral palsy as developed by ABS was presented by Madam Beda Giri.
   In order to incorporate some variation to the programme, 2 activities were conducted by our volunteer and social workers from 10:00am – 11:00am. The goals of these activities were to allow the children to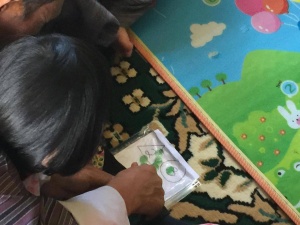 have fun and to teach parents/caregivers some simple activities that they can do with their child at home. The first activity involved a DIY sensory bag (clear, airtight ziplock bag filled with water and marble(s)) placed over a simple activity sheets. These activity sheets can comprise of activities as simple as drawing a line and encouraging the child to trace the line with the marble(s). This activity encourages children to practice their motor skills, hand-eye coordination, and ability to listen to instructions. The second activity was a scavenger hunt. The children were placed into one of two groups. Each group was given an instructional sheet that consisted of pictures which the child was to firstly identify and then find within their immediate environment. This activity aimed to encourage cognitive activity and abstract thinking – through the identification of the pictures, and the identification of where those objects are found.
There were 28 attendees excluding the ABS staff who were all present. The day aims to raise awareness of CP and the issues that affect people with CP at a local, national and international level to create more inclusive societies and to ensure that Children and Adult have the same rights, access and opportunities as anyone else in our society. It is only together, that we can make that happen.