Visit of delegates from Bangladesh to ABS center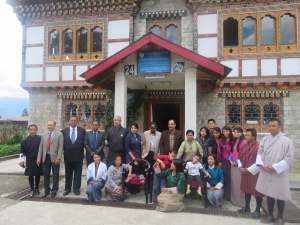 On 14th September, 2016 a team of 5 delegates from Bangladesh led by Vice Chairperson Prof. Pran Gopal Datta of Shuchona foundation visited Ability Bhutan Society. Shuchona Foundation is a not-for-profit advocacy, research and capacity-building organization specializing in neurodevelopmental disorders (NDDs) and mental health. His Excellency Jishnu Roy Chaudhuri, Ambassador to Bhutan from Bangladesh also accompanied the team.
Hon'ble Chairperson of ABS  Dasho Kunzang Wangdi, Vice chairperson Dr. Mahrukh Getshen, Executive Director and the staff of ABS welcomed the delegates to the ABS center.
Professor P. G. Datta and the team shared that they are in the  country to discuss regarding the International Autism conference which they are planning to conduct in Bhutan next year. The team already had several meetings with relevant agencies like Ministry of Health, Ministry of Foreign Affairs and World Health Organization (WHO) regarding the event. The team shared that they came to know about ABS only after their arrival in Bhutan and was than interested to include ABS for the conference. The team also urged ABS to include other NGOs, parents and social workers from the locality for the conference and further reiterated to take maximum benefit from it.
Prof. Pran Gopal Datta assured that this conference will help to build long term association with ABS and Shuchona Foundation.