Trashigang CBID Team concludes the activities
CBID team, Trashigang completes Life Skill Development Orientation and Orientation for BHU staffs in the field of disabilities on 28/10/2019- 29/10/2019.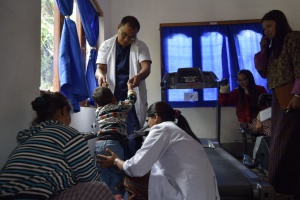 Five children with disabilities received Life Skill Development Orientation at Trashigang hospital in Trashigang Dzongkhag. Parents/caregivers were taught some basic home-based interventions focusing on Activity of Daily Living skills.
All the five Dzongkhags has now completed the life skill development orientation covering 27 children with various disabilities in total.
47 participants attended the BHU staffs orientation. Dr. Kalpana Chhetri, Pediatrician facilitated the program covering topics on developmental milestone, red flags, child's nutrition, pediatric disability and early identification such as in gross motor, fine motor, language and thinking. Dzongkhag Health Officer, Trashigang also attended the program along with Mr. Gangty Yoedzer, Physiotherapist who gave details on amenities provided by Physio unit.
In total 124 Basic Health Unit Staffs including the Dzongkhag Health Officer, Assistant Dzongkhag Health Officer from Chukha, Dagana, Punakha, Sarpang and Trashigang participated, completing the activity.
This activity is in collaboration with Federal Ministry for Economic Cooperation and Development (BMZ), Germany and German Leprosy and Relief Association (DAHW) based in India.