Support Buku and Her Family by Donating!!!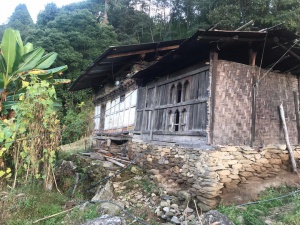 Buku, 63 years old mother from Shongphu Gewog in Trashigang has been striving every day to look after her children. (The eldest son Karma Gyeltshen is 29 years old with physical disability who also has speech and communication disorder. Yongmin, 23 years old daughter was also born with physical disability. The family currently lives in a poorly conditioned house with both siblings having very poor accessibility. The daughter moves around the house using her knees to do as much housework as she can. And similarly, the son who uses a walking stick does his hardest to help them around doing what he can. Buku has been strong and has not given up on her daughter or the son. She wishes to be able to do more for her family and keeps trying. "I am proud of my daughter because despite her disability she helps me and always tries to be happy. She knows how to cook and also does cleaning," Buku said in one of the visits to her house.
The daughter, despite her condition, is smart and generally happy at all times, according to Shongphu Gewog's ADM officer. She is socially approachable and tries the best she can to be able to support her mother and brother. Similarly, the son wishes to support his mother and sister.
"He is a hardworking person but it is quite difficult for him to be able to work like he used to because of his leg," said Buku.
Through the needbased data collection conducted by the CBID team of Trashigang, the family was able to get in touch with ABS and participate in the activities. The team is now collaborating with the Trashigang Physiotherapist to provide the daughter with a wheelchair. Buku and her daughter both looked happy and overjoyed when they heard that their request for a wheelchair was approved. "All she needs is the wheelchair so that she can equally move around like the others" Buku said when she heard the news.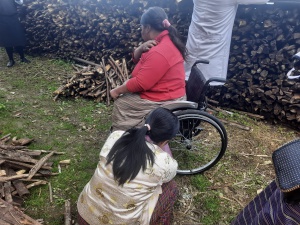 After further discussion about the wheelchair and how it can be used in and around the house, the need for a more accessible area was discussed. The family is in need of a structured house with accessible surrounding. However, Buku do not have any family whom she can rely on to help adapt the surrounding into more accessible.
So we are asking for donations to support construction of a more accessible house for Buku and her family. The CBID team of Trashigang along with
Youth Initiative for PWDs formed by group of students of Sherubtse College Kanglung, Social Service Unit – SSU. Sherubtse College, Kanglung and Shongphu Gewog ADM are going to initiate the construction of the house and accessible surrounding. With your support we can help bring positive change in the lives of three people and take a step towards providing people with disability and their family the support they deserve in our society. With proper accessibility the family can do more and we can help them achieve it.
It's Now or Never.
Interested individuals who wish to donate can deposit to Account Number-5100130973002 (Bhutan National Bank). The account is opened under a joint account (Asst. CBID coordinator, Trashigang ABS and FINA President, Youth Initiative for PWDs).
For further enquiry please contact CBID coordinator, Trashigang, ABS at 17349594 or follow the face book page: Youth Initiative for PWDs.
Kindly drop your name, citizenship identity number and the screenshot of the amount in
Youth Initiative for PWDs
inbox. Your help and support will highly be appreciated.