Second phase life skill development orientation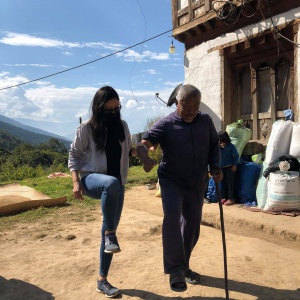 Parents/caregivers of children with disabilities tend to have low self-esteem and often ponder on their child's abilities. Having a notion that a child cannot do anything at all or trying to make them perfect are some of the causes that results in delay in progress or deteriorating of one's health. It is important to have parent's acceptance of their child's disability in order to assist them. Thus, second phase life skill development orientation was organized by the DCs and ADCs of Chukha, Punakha, Sarpang and Trashigang with support from ABS/BMZ/DAHW project.
The physiotherapists with support from HAs oriented parents and children with disabilities on the activity of daily living skills, home based exercises, creating routine, positive parenting, motor development and child management especially the risks and preventive measures during COVID-19. In addition, they went on home visits at the beneficiaries' place, oriented them on the use of assistive devices and advised them on adapting the accessible surrounding especially using toilet.
ABS would like to express our gratitude to the Dzongkhag administration, focal person, physiotherapists and HAs of the respective Dzongkhags for your hard work and support for this noble cause.