Promoting Healthy Life through Music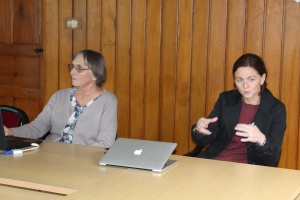 Dr. Solveig Kolaas, Psychiatrist and Ms. Anne Kippenes, Special Need teacher and music therapist from Norway visited ABS for the past three days (22-24/10/19) meeting with parents and children and promoting music for healthy life. They presented on the pre-linguistic skills such as joint attention, imitation and turn taking that must be taught to the children so that they learn to communicate.
It is vital that the children experience reality. Just like how a tree needs strong rooting for the fruit to bear, similarly a child needs enough attention and proper intervention to have results. Patience is one of the skills that one need, with children with disabilities. It may look weird finding a person who talks with a baby, making faces and noises however, a child needs to be communicated even if there is no response so that the child can feel love, affection and have experience to learn language.
The presentation ended with a short video clip about a boy with cerebral palsy who is two and half years old. After working with him for 4 months, he had finally started to respond to sound/music and had a rhythm while playing his musical instrument. It was a joy to see the result as the child enjoyed the company of music and started communicating through it.
ABS would like to thank Dr. Solveig Kolaas and Ms. Anne Kippenes, for the guidance as well as networking with the social workers regarding the strategies through music.