Observance of International day of Persons with Disabilities on 3rd December 2017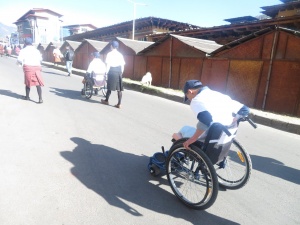 The annual observance of the International Day of Persons living with Disabilities (IDPD) was proclaimed in 1992, by the United Nations General Assembly which is observed every year on 3rd December. The observance of the Day aims to promote an understanding of disability issues and mobilize support for the dignity, rights and well being of persons living with disabilities. It also seeks to increase awareness of gains to be derived from the integration of persons with disabilities in every aspect of political, social, economic and cultural life.
The theme for this year's IDPD is "Transformation towards sustainable and resilient society for all".
The observance of day commenced with the short wheelchair race by adult wheelchair users coordinated by Physiotherapy Department, JDWNRH along the Norzin Lam. The race was organized to encourage and empower wheelchair users on participation and inclusion of Persons with Disabilities. Following the wheelchair race, members from the Ministry of Health, JDWNRH, Ability Bhutan Society (ABS), and Disabled Persons Association of Bhutan (DPAB) gathered to commemorate the day. His Excellency Lynpo Tandin Wangchuk, Health Minister of Bhutan delivered the keynote address on the importance of the day .The Wheelchair race winners and participants were awarded cash prizes and certificates. The students of Changangkha Middle Secondary School and DPAB members presented cultural programmes. Wangsel Institute students and teachers also did a Bhutanese Sign language demonstration on the names of twenty dzongkhags, fruits and animals.
ABS observed the Day in collaboration with Ministry of Health, JDWNRH, and Disabled Person's Association of Bhutan (DPAB), Busse-En Group (Social Welfare Organization), World Health Organization (Regional Office from South-East Asia) and other stakeholders. Persons with Disabilities and their families also attended the event.