Jigme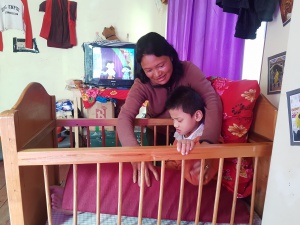 With the fund raised support from Royal Securities Exchange of Bhutan (RSEB)'s platform, ABS was able to help Jigme and his mother. Jigme's mother usually has him sit in the bucket and play while she does her household chores. She said "I feel safe as he will not be able to crawl out while I work." ABS helped procure a crib for Jigme to sit in and play. It also functions as a support stand for Jigme to practice his leg balance. Jigme's mother said, "It is very heartwarming to see Jigme smile. We would like to thank ABS for initiating this and all donors who supported in making our life easier. I didn't imagine to have such facility for Jigme."
ABS has also helped them shift to a new spacious apartment, and bought toys for cortical visual impairment.
In addition, the fund raised will cover Jigme's transportation cost to the center as well as to the hospital to avail physiotherapy.
ABS would like to thank all donors for supporting us always!