Finally a Home for Buku and her Family!
We are really glad to inform that the construction of a new house for Buku's family in Shongphu gewog under Trashigang Dzongkhag has been finished, thanks to the public's support. Buku can now live peacefully with her two children (Yongmin and Karma Gyeltshen) in a setting that is accessible to them. Yogmin, who has a physical impairment, is now able to go from one room to another without assistance.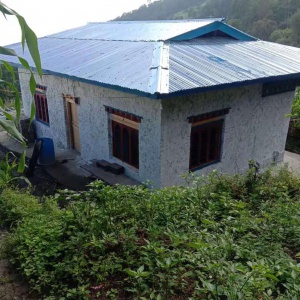 We, Ability Bhutan Society, 
Youth Initiative for PWDs
, Shongphu Gewog Aministration and Buku's family would like to thank each and every individual for your continued financial and manpower support, especially local community volunteers (under Shongphu Gewog). Construction began on the 21st of March, 2021, and ended on the 4th of May, 2021. During the weekends, local community volunteers assisted the skilled laborers in loading and unloading raw materials to the construction site, as well as other important tasks. The total amount raised during the fund-raising was Nu. 6,50,071/-, which was used to construct the house. Without the financial support of the general people, as well as the time and services of community volunteers, this initiative would not have been a success.
Upon the completion of the project, we have now closed the Account Number 5100130973002 (Bhutan National Bank) which was created for the fund raising.
We would like to once again thank everyone for your generous support, time and effort.