Empowering ECCD facilitators on Social Inclusion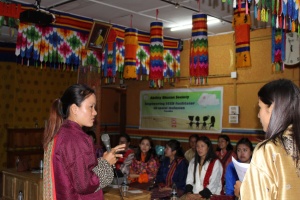 The Community Based Inclusive Development (CBID) Team of ABS from Chukha, Dagana, Punakha, Sarpang and Trashigang conducted a workshop in collaboration with the German Leprosy and Relief Association (DAHW), India and Federal Ministry for Economic Cooperation and Development (BMZ), Germany. The workshop targeted on empowering ECCD facilitators on social inclusion. Further the Dzongkhag Education Sector of Punakha and Sarpang Dzongkhags extended their support for the smooth implementation of the workshop. The topics presented were on developmental milestone, early identification of disability, importance of early intervention, nutrition, inclusion and referrals. It was a successful program having engaged the participants through activities and enriching discussions.  Around 93 participants including the Chief DEO, ECCD facilitators, monks, teachers, students of Draktsho and Sherubtse college from all 5 Dzongkhags participated in the workshop. Moreover, officials from the Headquarter along with Mr. Shibu George, Head Project Partnership & CBID, India visited Punakha and observed during the workshop.
The common struggles raised by the facilitators were the unacceptance by the parents of children with disabilities, resulting in the negligence of early identification and intervention. In addition, difficulties faced in the classrooms with the children were also shared and some strategies to work with children were suggested. As the workshop came to an end, the participants were determined to engage their knowledge further and committed themselves to work towards inclusiveness. A focal person from the respective ECCD centers is identified and a WeChat group is formed to discuss and follow up on any inquiries.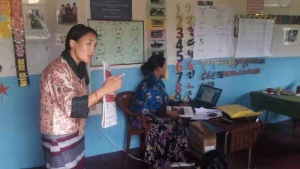 Soon after the workshop, the ECCD facilitators of Umling Mrs. Rinchen and Mrs. Pema from Sarpang took the initiative in presenting about developmental milestone and social inclusion to the parents during their 'Parental time'. With their support, 20 parents were sensitized reaching out to more at grassroots level. It is inspiration that carries more weight to make a difference.