Distribution of Special Movement Pass
ABS supporting in the distribution of Special Movement Pass for persons with disabilities along with Desuup.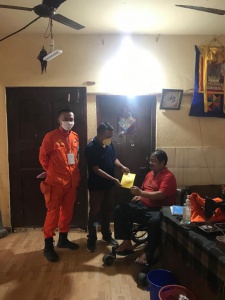 SOP for Special Movement Pass (Source- Thimphu Desuups for Covid-19 Facebook Page)
For people with disabilities
The holder of the Special Movement Pass cannot come out alone, and has to be accompanied by an Escort with a Movement Pass at all times when outside of the house.
The holder of the Special Movement Pass has to comply with the following:
Stay within the Zone of their Escort
Come outside the house only during the time block mentioned in the Escort's Movement Pass.
Wear a mask when outside the house
Maintain social distance from other people outside their houses
For a single parent with more than one child, the other children may accompany the parent when coming out of the house though there is only one Special Movement Pass.
*If you have not received the Special Movement Pass, please call at 1010. Your details will be taken and Pass will be issued after verification.