Bhutan Observed World Cerebral Palsy Day for the first time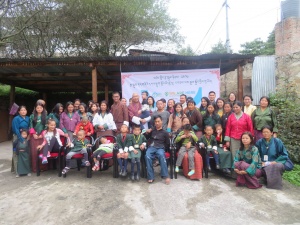 Bhutan observed World Cerebral Palsy Day for the first time this year and Ability Bhutan Society took the lead in observing the day on 5th October, 2016. World CP day was observed to create awareness about cerebral palsy and to ensure that children and adults with CP have the same rights, access and opportunities as anyone else in the society. Cerebral Palsy is a complex, life-long disability. It primarily affects movement, but people with CP may also have visual, learning, hearing, speech, epilepsy and intellectual impairments. Cp is the most common physical disability in childhood and is also one of the least understood.
The program was graced by Dasho Kunzang Wangdi, chairperson of Ability Bhutan Society and individuals living with CP and their families gathered together to observe the day. Through World CP Day, ABS had the opportunity to raise awareness about CP in the communities and assist others to look beyond the disability.