Another fruitful week of the parents and children's engagement (week 3 & 4)
Parents and children gathered in park and spent time with the children playing games and other activities. Further, the last week of the month was well planned with parents going to Kichu Lhakhang, Paro and getting together for dinner later that night, relaxing and getting opportunity to hang out.
Well done to all the parents who completed the tasks assigned during the summer vacation.
Stepping into the lush greenery
A marvel of their imaginary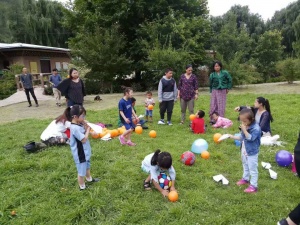 Seeing many of same kind
No one leaving behind
Stretching lips one can find
None folded in blind
Open to all, open within
A new venture to begin
Disability it may seem to other
But ability it is rather
Doing what they can is pleasure
Oh, a memory they would all treasure