ABS Observed World Autism Awareness Day
World Autism Awareness Day is an internationally recognized day. It was designated by the United Nations General Assembly resolution '62/139. World Autism Awareness Day", passed in council on November 1st, 2007, and adopted on December 18th, 2007. World Autism Day is also one of only four official health-specific UN days; the day itself brings individuals autism organization together all around the world to aid in things like research, diagnoses, treatment and overall awareness for those with the disorder. Autism is a growing challenge around the world. It is a lifelong disability with significant impacts on the individuals, family and society. Autism is a broad term for a group of very complex developmental disorders with symptoms ranging from difficulties with motor skills, communication and social interaction, to problems with sleep and gastrointestinal issues. No one person with autism is the same: each individual is unique in their abilities, with many affected having incredible aptitude in memory, the arts and academics. On April 2nd, we promote the need to better the lives of the families and all those living with this disorder.
This year's theme is "Toward Autonomy and self-determination". The convention on the rights of persons with disabilities (CRPD) recognizes the rights of persons with disabilities to independence of person and to individual autonomy. Moreover, the CRPD highlights the rights of persons with disabilities to "legal capacity on an equal basis with others and in all aspects of life". Legal capacity is instrumental to the recognition of a person as a human being of full personhood, with the right to take decisions and enter into contracts. However, certain abilities have often been seen as necessary qualification for full personal autonomy, creating a barrier to full societal inclusion for people with autism. Individuals with autism and their families face many barriers to enjoying their full rights. The society needs to not only understand what barriers to inclusion with autism are up against, but also needs to identify how we all, as a society, can work together to overcome and remove them.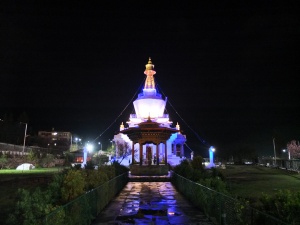 On 2nd April, Ability Bhutan Society joined the rest of the world  in the 'Light It Up Blue' campaign which was started by Autism Speaks to observe the World Autism Awareness Day. Two of the most iconic landmark in the country, Buddha Dordenma at Kuenselphodrang and National Memorial Chorten was lighted up blue. The event aimed to increase understanding and acceptance and further support people with autism. For the eighth year, the global Light It Up Blue campaign unite the world to shine a light on autism to transform global awareness into greater understanding and acceptance of autism across the spectrum and throughout the life span.
We would like to thank Druk Holding and Investments (DHI), TBank and Kuenphen Medicals for sponsoring the event.